Avast Premium Security
Keep all of your computers, phones, and tablets safe when you are online.
Get 30 days of PC protection for free
Custom Security for all your needs
Here is a custom feature that Keeps you secure on your PC, Mac, Android, and iPhone/iPad, at all times and in all places.

Choose single or multi-device protection to work best on your devices.

You can share your security with every one of your devices or everyone closest to you by selecting Premium Security for Up to 10 devices.
Protect yourself against biggest online threats
Avast Premium Security prevents all online threats, including fraudulent websites and ransomware.
Safe online shopping and banking
Hackers use spoofed websites that masquerade as legitimate sites. Avast Premium Security detects security risks on websites and protects you on both your computer and mobile phone. So, shop and bank online on any device, confidently.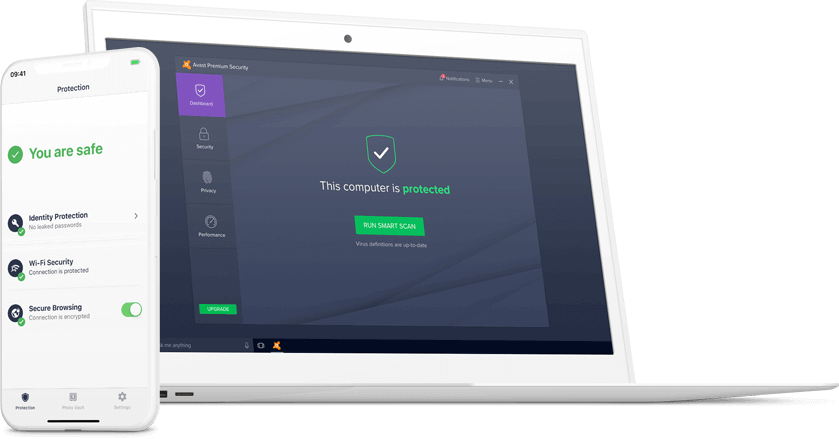 Prevent Cyber Extortion
Avast Premium Security protects all of your devices from ransomware which is so dangerous and harmful. So you don't become the victim of digital extortion.
Avast Premium Security  1PC is suitable for your Windows PC
Windows PC
Viruses, ransomware, scams, and other attacks target Windows more than any other operating system. So if you're a PC owner, the stronger your protection, the better.
Block viruses, spyware, and other threats in real-time.
Enjoy peace of mind with advanced ransomware protection.
Safer online shopping and banking by avoiding fake websites.
Keep hackers off your computer with an advanced firewall.
Prevent strangers from watching you via your webcam
With Avast Premium Security 1PC, you also gain

Advanced Antivirus
Blocks viruses, spyware, and other malware in real-time.

Web shield
Protects you with blocking dangerous websites and downloads.

Wi-Fi Inspector
Detects a vulnerability in your home Wi-Fi network and public network.

Real Site
Some websites are designed to steal money and passwords, so defends you.

Sandbox
You can open suspicious files in a safe environment to protect your PC.

Advanced Firewall
Monitors and controls inside and outside of your computer what happening.

Ransomware Shield
Protects your folders against the harm of ransomware.
Sensitive Data Shield
Protects your sensitive documents from spyware access.

Webcam Shield
Protects webcam against untrusted accesses.

Data Shredder
It removes precious files permanently so they couldn't recover.

Automatic Software Updater
Popular apps that are run on your PC is being updated to stay secure.

Passive Mode
For more security, you can use another antivirus on your PC beside Avast.

Do Not Disturb Mode
Turn off the notification of Windows, other apps and even Avast apps.

Real Time Updates
Forces you for security updates so you always stay safe.
System requirements for Avast Premium Security 1pc
PC: Windows 10, 8.1, 8, 7 (SP2) (32 or 64-bit), 1 GB RAM, 2 GB free hard disk space.
Visit Avast Support Center for FAQs.