AVG TuneUp
Advanced PC performance optimizer
Speed up, clean up and fix your PC
AVG TuneUp 
AVG TuneUp includes improved Sleep Mode technology to boost your PC speed and performance. In addition, Disk and Browser Cleaners free your storage space.

Get all-round automatic maintenance


Uninstall software you don't need

Remove junk files to free up space

Update your programs automatically
Fixes and maintains your PC automatically
AVG's improved Automatic Maintenance tunes your PC every week for you, so you can simply enjoy better performance, 24/7.
Cleans your registry automatically.

Cares for your PC with Automatic Maintenance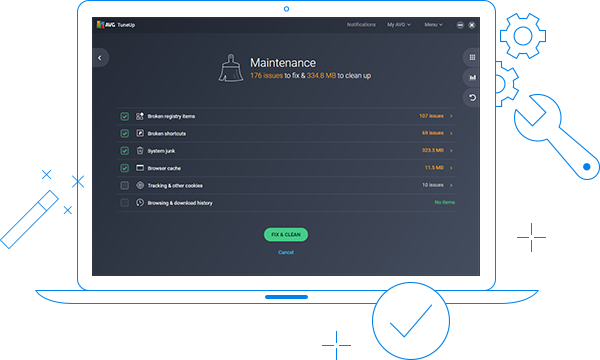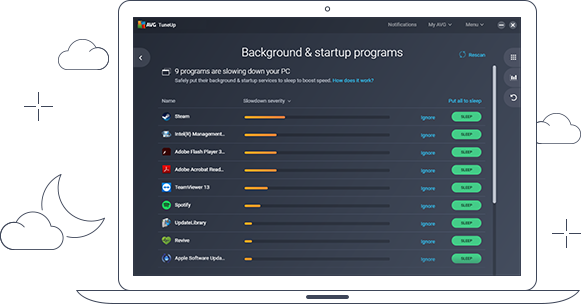 Improved
Speed up and tune up your PC
AVG TuneUp 1 Device speeds up your PC boot and web browsing and runs programs and games faster.
Optimize your PC with Sleep Mode
New
Remove bloatware and junk programs
Helps you to get rid of old unnecessary programs, toolbars, and trial versions, software that came preinstalled in your PC.
Find and remove unwanted software with Software Uninstaller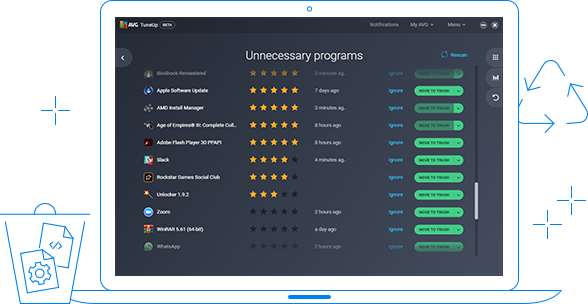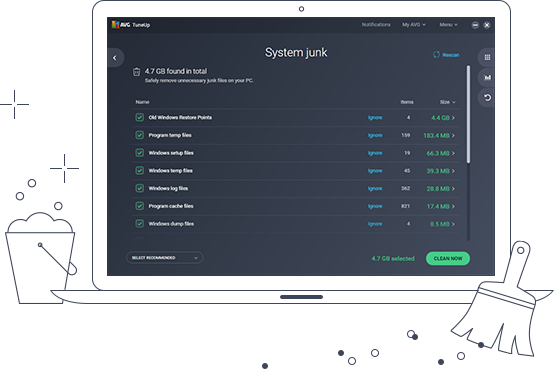 Improved
Liberate your storage space and clean up 200+ apps
There are two solutions with AVG TuneUp 1 Device to increase your space and delete web junk files and Windows files leftover from your PC.
Deep-clean your hard drive with Disk Cleaner
Surf lighter and faster with Browser Cleaner
New
Gets all your programs up-to-date with one click
Prevent security issues, bugs & irritating installers: AVG TuneUp's Software Updater checks your installed software, such as Java, VLC and Skype, and easily updates them all to the latest, greatest versions.
The zero-hassle Software Updater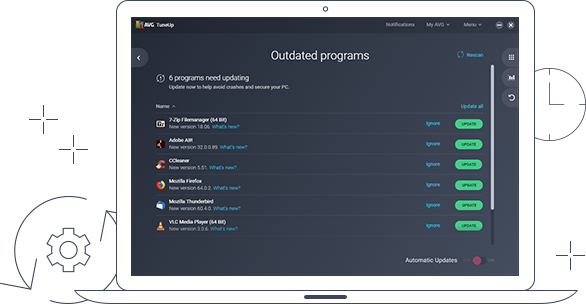 Languages
For Windows: Chinese (traditional), Chinese (simplified), Czech, Danish, Dutch, English, French, German, Indonesian, Italian, Japanese, Korean, Malay, Norwegian, Polish, Portuguese (Brazil), Portuguese (Portugal), Russian, Slovenian, Spanish, Swedish, and Turkish.